Indoor / Outdoor Bird Cages & Enclosures
Custom Cages manufactures high quality bird cages under the brand names Hybrid, Majestic and Suncatcher. The Hybrid and Majestic lines are for indoor use only, whereas the Suncatcher line features indoor and outdoor walk-in bird cages. Please choose a brand directly below or scroll further down to see all of our premium bird cages and bird enclosures. These custom manufactured bird enclosures are perfect for parrots, toucans, conures, macaws, African grays, finches, parakeets, cockatoos, canaries and other bird species.
Hybrid Aluminum Framed Bird Cages
The Most Custom Options Anywhere! Choose Hoods, Stands, Pull Out Floors and Trays, Image Backgrounds, Feeders, Toys, Furniture, Seed Catchers – and more!
Durable, Pet Safe Materials
Modular, Transportable and Easy Assembly! Go up Stairs, Around Corners, Into or out of a Vehicle with Ease!
Expandable, Stackable, Durable! Change Your Size or add a Hood or Stand at any Time!
Handmade to Order in the USA!
Learn More About Our Indoor & Outdoor Hybrid Bird Cages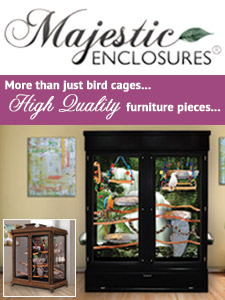 Majestic Furniture Style Wood Framed Aluminum Lined Bird Cages
More Viewing Area than ANY Other Furniture-style Cage System on the market!
Handcrafted to Order in the United States!
Solid Oak Exterior Frame (Hard Maple Cherry Wood and Custom Woods Available!)
Fully Lined Aluminum Interior GUARANTEED Against Wood Chewing on the Inside.
Expandable. Connect Two or More Enclosures Together!
Modular. Get Any Size Enclosure Into Your Vehicle, Through Doorways, Around Corners or Up Stairs!
Tray and Floor Pull Out WITHOUT Opening the Cage Door! A Function Most of The Competition Does Not Have!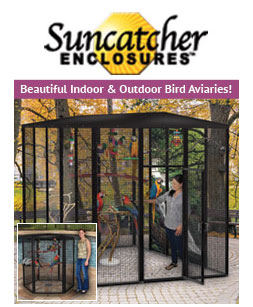 Suncatcher Large Walk-in Indoor/Outdoor Bird Aviaries
Huge Indoor & Outdoor Bird Aviaries
Walk-in Friendly Design Makes Suncatcher Bird Aviaries Easy Cleaning!
Sturdy, Welded Construction: Powder Coated Welded Steel Wire Mesh with Hinges to Attach All Panels. Makes Every Panel Interchangeable!
2 Wire Diameters and Opening Sizes. 12 GA standard, 8 GA for Strong Beaked Birds. Great for all Bird Types!
Safety Catches Available. Add a Safety Catch to Any Cage, or a Floor Kit to use Inside During Colder Months!
Learn More About Our Suncatcher Enclosures
Multiple Color Choices
The indoor / outdoor bird cages & bird enclosures below come in Black Granite, Natural Granite, Cambridge Cherry, English Oak, Golden Oak and Prestige Maple.



Find out more about our cage material options.
Configure Your Own Hybrid Bird Cage!
Configure Your Own Suncatcher Outdoor Bird Cage!