Outdoor Cat Enclosures
Custom Cages manufactures high quality outdoor cat enclosures & cages under the brand names SunCATcher and Hybrid. Please choose a brand directly below or scroll further down to see all of our premium outdoor cat cages & outdoor cat enclosures.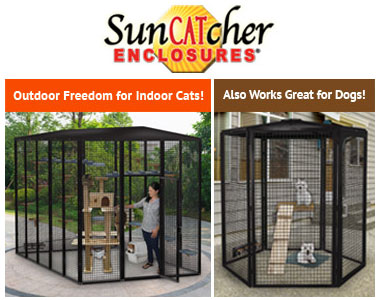 SunCATcher Large Walk-in Indoor/Outdoor Small Animal / Cat Cages
Huge Indoor and Outdoor Cat Enclosures and Cat Condos
Also great for birds, ferrets, small dogs, monkeys, and many more!
Walk-in Friendly Design: Makes SunCATcher Cages Easy Cleaning!
Anodized Aluminum Frame: All weather aluminum frame with Hinges to Attach All Panels. Makes Every Panel Interchangeable!
Many Wire Diameters and Opening Sizes. Powder coated, stainless steel, heavy guage wire, glass, clear acrylic, printed images, wood and granite grains and patterns, aluminum laminate, and perforated aluminum are just SOME of the material options. See our Material Options page for more details!
Safety Catches Available. Add a Safety Catch to Any Cage, or a Floor Kit to use Inside During Colder Months!
Freedom Window and Freedom Door kits make connecting to your home easy! Outdoor freedom for indoor cats!!! Now you can have your litter box outside, 24/7!
Basking Shelves and Playstands available!
Friendly Feeders and Rotating Feeders make maintaining food and water easy!
Fully customizable to meet your needs!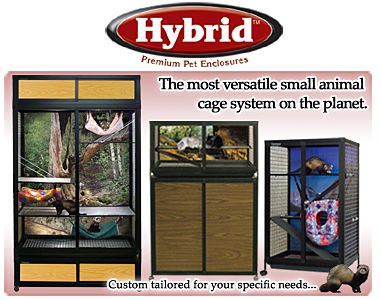 Hybrid Aluminum Framed Small Animal Cages
The Most Custom Options Anywhere! Choose Hoods, Stands, Pull Out Floors and Trays, Image Backgrounds, Feeders, Toys, Furniture – and more!
Durable, Pet Safe Materials
Modular, Transportable and Easy Assembly! Go up Stairs, Around Corners, Into or out of a Vehicle with Ease!
Expandable, Stackable, Durable! Change Your Size, or add a Hood or Stand at any Time!
Handmade to Order in the USA!
Multiple Color Choices For Outdoor Cat Enclosures
The outdoor cat enclosures below come in Black Granite, Natural Granite, Cambridge Cherry, English Oak, Golden Oak and Prestige Maple.



Find out more about our Cage Material Options.
Configure Your Own!
No products were found matching your selection.