Turtle Aquariums & Amphibian Aquariums
Custom Cages manufactures turtle tanks and amphibian tanks which are part aquarium and part terrarium, perfect as turtle tanks for turtles or any other types of reptiles or amphibians that require both land and water environments. The bottom section holds water whereas the top half is great for viewing and providing your plants and animals dry space with easy access! Now any of our standard aquariums can be made as amphibian aquariums with sliding front, back or side doors for easy access to your pet amphibian.
These turtle tanks and amphibian tanks are custom manufactured to your specification, including height, length and depth as well as the mixture of aquarium to terrarium that you require. The aquarium portion of the enclosure is typically paired with our Seamless Sump, H2Overflow and Siphon Stopper filtration/backflow systems to keep the water clean and fresh, which is a struggle for most turtle tanks and other amphibian aquariums.
These enclosures are great for use as:
Turtle Tanks
Turtle Cages
Turtle Aquariums
Turtle Enclosures
Amphibian Tanks
Amphibian Cages
Amphibian Aquariums
Amphibian Enclosures
Online pricing is coming soon - please call us for a price quote - we are now accepting orders! (Typical pricing is 20-40% more than a regular standard aquarium depending on the configuration).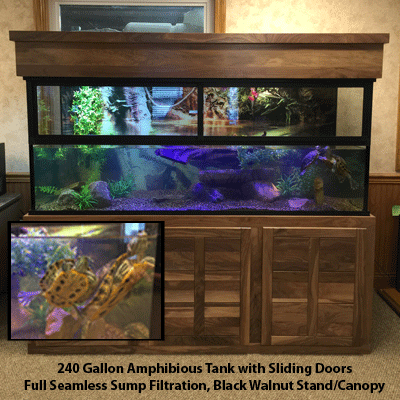 Custom Aquariums on the King of DIY
Amphibious Turtle Tank Custom Aquariums Video
Custom Aquariums Features an Amphibious Aquarium at Aquatic Experience
---
The Hybrid and Majestic Enclosure systems found below can be modified for turtle aquariums and amphibian aquariums. Please browse through the enclosures below and call us at (800) 941-2243 for more information or pricing on these enclosures which can be modified for amphibious use.
Hybrid Aluminum Framed Reptile Cages
The Most Custom Options Anywhere! Choose Hoods, Stands, Panel Materials, Image Backgrounds, Substrate, Rock Furniture - and more!
Durable, Pet Safe Materials
Modular, Transportable and Easy Assembly! Go up Stairs, Around Corners, Into or out of a Vehicle with Ease!
Expandable, Stackable, Durable! Change Your Size, or add a Hood or Stand at any Time!
Handmade to Order in the USA!
Majestic Furniture Style Wood Framed Aluminum Lined Reptile Cages
More Viewing Area than ANY Other Furniture-style Cage System on the market!
Handcrafted to Order in the United States!
Solid Oak Exterior Frame (Hard Maple Cherry Wood and Custom Woods Available!)
Fully Lined Aluminum Interior Protects From Moisture
Expandable. Connect Two or More Enclosures Together!
Modular. Get Any Size Enclosure Into Your Vehicle, Through Doorways, Around Corners or Up Stairs!
Multiple Color Choices
The turtle tanks & amphibian tanks below come in Black Granite, Natural Granite, Cambridge Cherry, English Oak, Golden Oak and Prestige Maple.

Find out more about our Cage Material Options.