Turtle Aquariums & Amphibian Aquariums
Custom Cages manufactures turtle tanks and amphibian tanks which are part aquarium and part terrarium, perfect as turtle tanks for turtles or any other types of reptiles or amphibians that require both land and water environments. The bottom section holds water whereas the top half is great for viewing and providing your plants and animals dry space with easy access! Now any of our standard aquariums can be made as amphibian aquariums with sliding front, back or side doors for easy access to your pet amphibian.
Custom Amphibian Aquariums
These turtle tanks and amphibian tanks are custom manufactured to your specification, including height, length and depth as well as the mixture of aquarium to terrarium that you require. The aquarium portion of the enclosure is typically paired with our Seamless Sump, H2Overflow and Siphon Stopper filtration/backflow systems to keep the water clean and fresh, which is a struggle for most turtle tanks and other amphibian aquariums.
These enclosures are great for use as:
Turtle Tanks
Turtle Cages
Turtle Aquariums
Turtle Enclosures
Amphibian Tanks
Amphibian Cages
Amphibian Aquariums
Amphibian Enclosures
---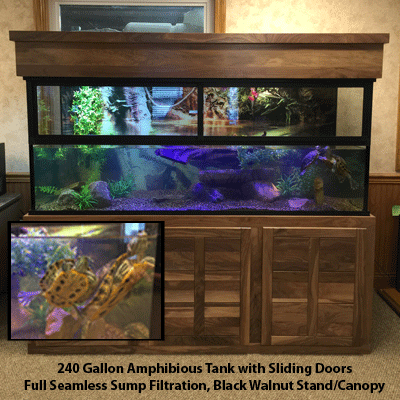 Custom Aquariums Features an Amphibious Aquarium at Aquatic Experience
---
Configure Your Own Amphibious, Half-Land & Half-Water Aquarium!
---
No products were found matching your selection.