Suncatcher Bird Cages & Enclosures

Suncatcher Large Walk In Bird Cages
NOW COME STANDARD WITH ALL WEATHER BLACK ANODIZED ALUMINUM FRAME AND A MULTITUDE OF PANEL MATERIAL OPTIONS!
SUNCATCHER BIRD CAGE FEATURES:
Black Anodized Aluminum Frame (silver/gray available for an extra charge) which will NEVER rust, chip, carrode
Comes Standard with 1" x 1" x .120" black powder coated wire for an excellent cosmetic look and easy climbing – many other opening sizes to choose from.
Many other panel options such as crimp locked stainless steel wire, heavy duty wire gauges, aluminum laminate, wood/granite grains and patterns, perforated aluminum, glass (regular and tempered). See material options page for more details.
Pull out floors and trays available
Linoleum floor / tray liners
Cage Covers (in some sizes)
Safety Catch options to help access your bird without risk of escape
Welcome to our beautiful line of Suncatcher indoor and outdoor bird enclosures. Since our beginning we have been dedicated to providing pet owners and commercial breeders alike with attractive, quality environments for their pets and livestock at affordable prices. We definitely believe that more is better when it comes to cubic footage for animal environments. You will not find a more attractive, versatile, spacious, or quality outdoor bird cages anywhere else!
These huge walk-in friendly bird aviaries come in a variety of wire gauges and sizes, come standard with 1" x 1" x .120" powder coated wire with many other panel options available and are easy to assemble! You and your feathered flock will love the features our Suncatcher bird cages & enclosures have, such as safety catches (for your outdoor aviary), connectable sectionals (outdoor bird cages), stainless steel rotating feeders or Friendly Feeders (for each indoor and outdoor large bird aviary), and taller, larger, outdoor bird aviary sizes offered at an even more affordable price! We even have huge double and triple bird aviary configurations! GREAT FOR BIRDS, REPTILES, AND SMALL ANIMALS like CATS, FERRETS, and MONKEYS!
Multiple Color Choices
The Suncatcher bird cages & bird enclosures below come in Black Granite, Natural Granite, Cambridge Cherry, English Oak, Golden Oak and Prestige Maple.


Find out more about our cage material options.
Also find out more about our many other custom options for your bird aviary.
Cage Features
Walk-In Friendly
Walk-in access
allows for easy cleaning in our outdoor bird cages, and unlimited access to your birds. Huge open designs allow you to be in the cage for an extended period of time, with room even for furniture so you can spend quality time interacting with your birds. Add floor kits to any outdoor Suncatcher bird aviary and use the same cage inside during the colder months, or purchase without the grate, trays, and casters to create a walk-in virtually maintenance free outdoor cage environment!
Safety Catches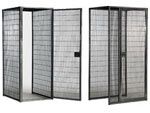 Our
single and double safety catches
are designed to bolt up to almost all of our aviaries to allow you to walk into your cage and shut the safety door behind you before opening the main door, or to connect two or more aviaries together to create a wonderful playground for your pets.
Patented Feeders
Rotating Feeder Station
(above left) allows for easy access to three Stainless Steel, 16 oz. food bowls from the outside. Extremely useful for flighted birds or when housing a colony, especially if you do not have a safety catch. Mounts on any of our aviary panels, and bowls are securely held in place. Lockable.
Friendly Feeders®
(above right) also prevent escape when feeding, and externally mounted to eliminate waste and cross contamination of food and water. Easy to clean and extremely durable,
Friendly Feeders®
stand up to even large destructive birds such as Macaws! Simply slide out the dish from the outside of the cage to replenish food, water or treats. Dishwasher safe!
Material Options
Suncatcher Enclusures now come standard with Black Anodized Aluminum frames, with many panel options to choose from. Powder coated wire, stainless steel wire (in many different size openings and gauges), glass (regular or tempered), clear acrylic, wood and granite grains and patterns, aluminum laminate, printed image background, and perforated aluminum are just some of the options to choose from for any Suncatcher Enclosure! See our
Material Options
page for more details!
Modular & Expandable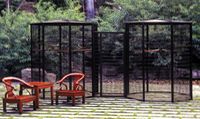 Infinitely expandable, our Suncatcher cages can be added to or removed from at any time to make dual or even multiple enclosures, or to add extra room for your flock as it grows. Add a safety catch to almost all our cages to connect multiple enclosures together to make one-of-a-kind amazing backyard habitats for your birds. Click
here
to view an example of our Suncatcher aviaries with attached safety catches.
---
NEW!!! SunCATcher Outdoor Cat Enclosures!
Finally... your indoor cat can enjoy the freedom of the outdoors! Our revolutionary
SunCATcher Outdoor Cat Enclosures
allow your cat to come and go outside as it pleases and bask in the sun's natural rays without the fear of escape! Walk-in friendly, lockable and durable, our
Outdoor Cat Enclosures
will allow you and your pets to bask together in the sun on your patio, deck or anywhere near a window without fear of escape or danger, and with plenty of room to play and explore the great outdoors! Complete Packages come with everything your cat will need to bask in the sun with solid cedar shelves,
plush cat trees
, catwalks,
Friendly Feeders
for food, water and treats, and connector kits to make your SunCATcher Enclosure an outdoor paradise for your furry felines! A great addition to any home, our
SunCATcher Outdoor Cat Enclosures
will be a treat for you and your cats for years to come.
---
For more information on bird cages click the links below: