Small Animal Cages & Enclosures
Custom Cages manufactures high quality indoor and outdoor custom small animal cages & small animal enclosures under the brand names Hybrid and SunCATcher. Please choose a brand directly below or scroll further down to see all of our premium custom small animal cages & enclosures for your cats, ferrets, rabbits, chinchillas, guinea pigs and other small pets!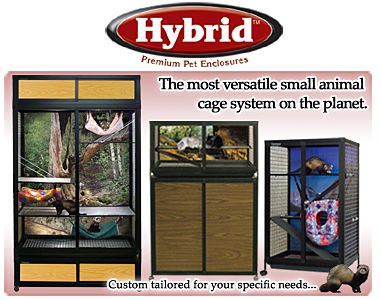 Hybrid Aluminum Framed Small Animal Cages
The Most Custom Options Anywhere! Choose Hoods, Stands, Pull Out Floors and Trays, Image Backgrounds, Feeders, Toys, Furniture – and more!
Durable, Pet Safe Materials
Modular, Transportable and Easy Assembly! Go up Stairs, Around Corners, Into or out of a Vehicle with Ease!
Expandable, Stackable, Durable! Change Your Size, or add a Hood or Stand at any Time!
Handmade to Order in the USA!
Learn More About Our Hybrid Enclosures
SunCATcher Large Walk-in Indoor/Outdoor Small Animal / Cat Cages
Huge Indoor and Outdoor Small Animal / Cat Enclosures and Cat Condos
Walk-in Friendly Design Makes SunCATcher Cages Easy Cleaning!
Sturdy, Welded Construction: Powder Coated Welded Steel Wire Mesh with Hinges to Attach All Panels. Makes Every Panel Interchangeable!
Fully Lined Aluminum Interior Protects From Moisture
2 Wire Diameters and Opening Sizes. 12 GA Standard, 8 GA Heavy Duty. Great for all Pet Types!
Safety Catches Available. Add a Safety Catch to Any Cage, or a Floor Kit to use Inside During Colder Months!
Learn More About Our Suncatcher Cages
Multiple Color Choices
The small animal cages & enclosures below come in Black Granite, Natural Granite, Cambridge Cherry, English Oak, Golden Oak and Prestige Maple.



Find out more about our cage material options.
Configure Your Own Hybrid Small Animal Cage!
Configure Your Own Outdoor Suncatcher Small Animal Cage!