Hybrid Bird Cages & Enclosures

Hybrid Bird Cages & Enclosures
We chose the name Hybrid® because it is a perfect description of our enclosure system. Instead of conforming to one particular type of enclosure, we pick the best materials for each function. For example, the doors on our standard bird enclosures are clear acrylic so you can view your pet, the top and sides are stainless steel wire mesh so you can get air flow for birds and small animals. The back is laminate or a custom background to give the enclosure a professional, classy appearance. The end result is not one particular type of enclosure, but a "Hybrid®" of all different types of enclosures to give you the best of all worlds. In addition, every species of bird is different and every situation is unique, which is why we also allow customers to customize their enclosures and choose what types of materials they would like to use depending on their circumstances, thus creating their own unique Hybrid®.
---
Our Bird Cage Specials
Give your pet room to stretch! These enormous custom Hybrid bird cages and bird enclosures are our most popular Hybrid Bird Cage Specials! Plenty of room to be used as bird cages or small animal cages in many of our custom bird cages. And even large bird cages like this can be equipped with Pull Out Floors and Pull Out Trays, making cleanup of any bird cage a breeze! Optional Pull Out Dividers separate a cage to house multiple birds, or add a hood for lighting or a stand for storage of all your bird supplies.
Multiple Color Choices
The Hybrid bird cages & enclosures below come in Black Granite, Natural Granite, Cambridge Cherry, English Oak, Golden Oak and Prestige Maple.


Bird Cages for Offices, Lobbies, etc.
Customize your own Hybrid bird cage to brighten up your bank or credit union's lobby, dentist office, doctor's office, hospital waiting area, hotel lobby, museum exhibition, nursing home hallway, pet store display, restaurant, retirement home or zoo!
Find out more about our cage material options.
Also find out more about our many other custom options.
Showing 1–16 of 24 results
Hybrid Bird Cages - The Most Versatile Bird Cage System on the Planet
Custom Bird Cage Experience
Trusted by Jack Hanna, used on Extreme Home Makeover, Pimp My Ride, by Humane Societies nationwide and the Make-a-Wish foundation on multiple occasions, CagesByDesign is trusted by and has sold more build-to-order bird, reptile and small animal cages sold than anyone, anywhere!
Bird Cages Hand Crafted in the USA
As a family owned and operated business, we put a lot of personal dedication and pride into our enclosures and accessories and are proud that our customers world wide can have the ability to create the ultimate habitat for their pets. All of our aluminum and stainless steel materials are made in the USA as well as our cages, with materials bought from many suppliers close to our facility in northern Wisconsin.
Highly Customizable Bird Cages
Pick your own bird cage size, panel material, the perfect size hood or stand, and add or remove dividers, feeders, seed catchers, and countless other options as you choose! We make every cage specifically to order for each customer one at a time. During business hours we're available on the phone to walk you through your custom cage building experience. You can even choose one cage size now, and purchase extra panels to make your cage bigger later down the road as your needs change. Changing your bird? You can change your panel type or wire size later too, making our Hybrid bird cages very budget friendly.
Durable, Pet Safe Bird Caging
All Hybrid bird cages come standard with crimp lock stainless steel high-grade wire (not welded or powder coated), purchased in the USA. Stronger than carbon or standard steel, it cannot rust, chip or corrode and has no toxic coatings. To learn more about our materials, please visit our material info page.
Advanced, Computer Generated Bird Cage Design
Over the past ten years we have worked tirelessly to design, modify, and re-design our new cage system. We have used over a dozen engineers, tested countless prototypes and materials, used computer generated strength analysis, and spent thousands of hours on our design to ensure it has the proper strength, durability, and functionality. We have proprietary patents, we invented our bird cage design, we own the tooling, and nobody else can copy our bird cages.
Interchangeable Bird Cage Panels
Any front door, back, side top or bottom can be made out of acrylic, glass, stainless steel wire, thermofused laminate, aluminum laminate, or perforated aluminum. These panels are all interchangeable and can be switched or replaced at any time without having to purchase a new bird cage!
---
Our Standard Features
Standard Bird Cage Features
We design our bird enclosures with stainless steel wire top and sides, acrylic fronts, and laminate back and floor with your choice of 6 colors. This is intended for air flow and climbing surface on the sides and top, allow for a great viewing space in the front, and maintain a classy look in the back.
Modular and Transportable Bird Cages
We have learned though our own experience, as well as through our customers, how difficult it can be to get other enclosures as large as ours into your home and put together. This is why all of our Hybrid bird cages break down for easy transportation and mobility. When you are moving there's no need to buy a new enclosure, our enclosures can be taken down and reassembled many times. We have even sold very large cages similar to the ones pictured to the right to a traveling circus that takes down and puts back together the cages three times a week! This is a feature very few other enclosures offer and can save you the cost of purchasing an entirely new cage down the road. Because of the way our system is designed, in a rare circumstance if a panel were to be damaged it could easily be replaced without having to replace the entire cage.
Expandable
Expandable Bird Cage Systems
One of the most frustrating aspects of purchasing an enclosure is trying to decide how large to get it. As a result, bird owners may end up buying several enclosures throughout the life of the bird, each time throwing one to the curb. With our Hybrid bird enclosures, you can purchase the size that's appropriate now and add on later!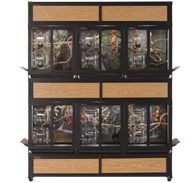 Stackable Bird Cages, Hoods and Stands
Our cage system is completely stackable without having to purchase expensive racking equipment. Our corner joint system has pin slots molded into them to easily stack and lock multiple enclosures together. This also allows hoods and stands to be interchangeable with the entire bird cage system. The same pin slot can also be used to install casters so your bird cage can be moved easily!
Easy Bird Cage Assembly
All of our enclosures require assembly once you get the bird cage. The cage comes with an allen wrench to secure the frame members of the cage together. The only other tool required is a #1 phillips head screw driver. For some larger units we recommend two or more people for assembly to help manage the large frame or panel members. A moderate skill level is required for assembly. We also have live support available during business hours to help you through any problems you may have.
---
Our Standard Options
Aluminum Bird Cage Framework
Our cages consist of very thick aluminum that is hardened and anodized to resist denting and scratching. H2 Hybrids are designed with medium to small birds in mind, and H3 Hybrids have much thicker and more heavy-duty materials, designed for stronger, larger birds. Our anodized aluminm frames are strong, lightweight and corrosion proof.
Revolutionary Bird Cage Corner System
Revolutionary corner joint and wedge system allows for quick assembly and easy stackability. Makes additions of pull out floors, pull out trays or casters a breeze! The corner system is our own invention for this specific application. These parts are also designed to withstand an extraordinary amount of force without breaking and are designed for easy, secure assembly and dissassembly.
Interlocking Bird Cage Doors
Proprietary door locks pin doors together to make escape virtually impossible. Keeps animals in and people out! Security was a top priority when designing our cage system. Our frame design and locking system address this issue thoroughly. First, the outer handles of the cage interlock securely with the outside frame of the cage making it nearly impossible for anything to escape. We also invented a revolutionary locking system for the middle of the doors that pin them together. This feature makes it nearly impossible to slide them open when properly locked. The lock is keyed and is placed outside the acrylic doors, meaning your bird does not have access to the locking mechanism (intelligent birds will not have a way to finesse the lock open). This also comes in handy for public applications like pet stores, zoos, or museums where keeping people out is as important as keeping animals in.
---
More Custom Options
Bird Cage Hoods and Stands
Adding a hood to any of our bird cages is an excellent way to add vibrant light to your cage without having to look at unsightly fixtures. Hoods, like the one shown above, give a finished look to your Hybrid bird cage, making it a centerpiece in your home. Stands are a great place to keep bird supplies such as food, toys and treats, and also elevate the cages to eye level.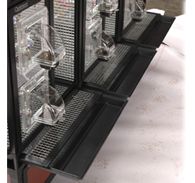 Bird Cage Floors, Trays, Liners
Our pull our floors and trays are made to easily remove from any bird cage without having to open the door of the cage! (a feature most of the competition doesn't have). The trays are made either out of molded ABS plastic or an extruded aluminum frame and aluminum laminate bottom to make them easy to clean and safe from the elements. Our pull out floors can come with many wire opening sized making it impossible for your bird to get to the mess in the tray. Our tray system interlocks and fastens securely to the bottom of your cage. Disposable pull out tray liners are also available to make cleanup a breeze!
Removable Bird Cage Dividers
Our removable dividers can be added to any Hybrid bird enclosure. The dividers easily remove from the front of the cage and you can use as many as you wish to divide your enclosure. The divider allows you to partition your cage for multiple birds, without having to purchase several cages. This is very useful for breeders who may want to allow pets to have contact only during certian times of the year, or for people with birds that do not get along.
Hand-Made Birdcage Covers
Our custom-size cage covers provide a dark and secure environment for promoting sleep for any animal. Made of a durable, light-weight non-toxic poly-cotton fabric, our cage covers are machine washable. Our covers are specifically made for our Hybrid bird cages, and are custom-fit yet leave ample room to add our external features such as Friendly Feeders and seed catchers.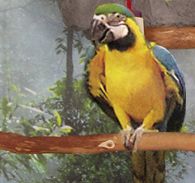 Custom Bird Cage Image Backgrounds
These images are even more stunning in person than in our pictures. Images are printed, laminated to the back of your cage, and covered with a durable, protective clear material for moisture, scratch and UV resistance (prevents fading). Images are extremely high resolution and will be cropped to fit the back of your cage perfectly. Over 40 backgrounds to choose from, or have your own custom image printed for your Hybrid bird enclosure.
Friendly Feeders for Birdcages
Friendly Feeders® prevent escape when feeding your birds, and are externally mounted to eliminate waste and cross contamination of food and water. Easy to clean and extremely durable, Friendly Feeders® stand up to even large destructive birds such as Macaws! Simply slide out the dish from the outside of the cage to replenish food, water or treats. Dishwasher safe!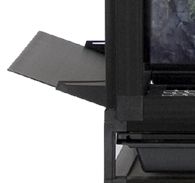 Bird Cage Seed Catchers
Our seed and aggregate catcher system can be clipped to any birdcage panel with 1/2" wire or larger. Debris falling within 4" of the cage will be collected into the seed catcher, then simply unclip the catcher from the cage to dispose of waste. Seed catchers are sold by the foots and are cut to length for your cage panels.
---
---
For more information on bird cages, click the links below: